How to improve your business with Microsoft
Making improvements, reaching milestones, increasing productivity – you name it. The products and services of Microsoft assist you to exceed your goals. So many organizations have found using them beneficial. More than 900,000 companies use Office 365, more than half of Fortune 500 are on Azure and 80% are on the Microsoft Cloud. This huge interest leads to many businesses with primary focus on building and reselling solutions based on Microsoft products. Currently, there are 60,000+ companies in the Microsoft Partner Network, making it bigger than AWS and Salesforce combined. The question is how to improve your business with Microsoft.
A Variety of products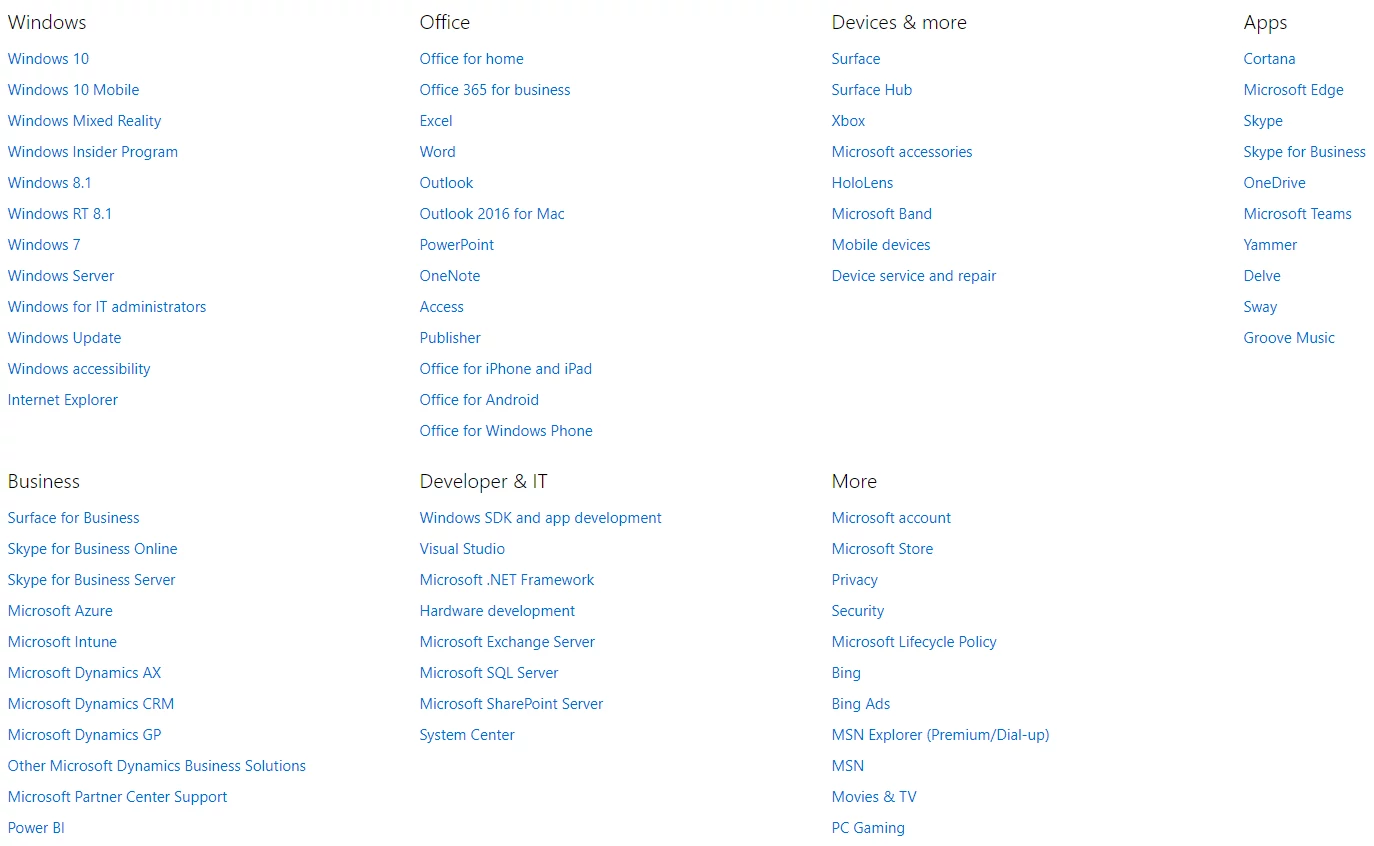 There are seven application categories – Windows, Office, Devices, Apps, Business, IT and Others. These products are highly oriented to increase productivity one way or another. While we can't cover all of them in a single article, we'll discuss how using only a few will improve your business and add instant value to it.
No prior experience with Microsoft needed
Even if you don't know of the existence of some or any of the Microsofts' products, don't worry! The 60,000+ companies in the Microsoft Partner Network strive to assist customers through their journey of digitalization. No prior experience is needed, as you can benefit from partnering with those certified engineers.
Microsoft 365, Dynamics, Power BI and Azure
M365 is a bundle of Office 365, Windows and advanced security features. O365 includes the most famous Microsoft applications – Outlook, Word, Excel, PowerPoint and OneNote. These programs alone are amongst the most efficient and productivity-boosting software in the world. But that's not everything, the package also includes 1 TB of cloud storage in OneDrive, automatic updates, utilization on multiple devices and 24/7 Support. Regardless if you choose M365 or O365, you will have mighty AI-powered tools which will help you exceed your goals, not lose your time.
Imagine that all the tools you are using, are personalized just for you. You always wanted your CRM to have additional functionalities? No problem, you can have anything with Microsoft Dynamics CRM – from custom filters, buttons and fields to integrating Artificial Intelligence for in-depth insights. Most importantly, Dynamics will help you maximize your productivity while eliminating the things that hold you back. You can leverage with Dynamics 365 and build whole platforms for Business management, Sales and Customer Service.
You can take advantage of the world's best Analytics with Power BI and Azure SQL Data Warehouse. Shortly, those are Microsoft's visualization and database tools. Power BI is very easy to use and you can implement Machine Learning models with AutoML even without coding! Combined with the SQL Data Warehouse, handling Big Data with extreme performance is no longer an issue.
Here's something difficult to explain with a few words. It's officially defined as a "set of cloud services" which exceed 600. Azure combines Infrastructure as a Service, Platform as a Service and Software as a Service. IaaS are the virtual machines or servers in the cloud. An example of PaaS is Microsoft Azure Web Sites – a hosting service, allowing developers to use their favourite programming language and frameworks. Building or deploying pre-built SaaS Applications on Azure gives the opportunity to make use of the latest technologies while integrating perfectly with the rest of Microsoft's products – Dynamics, Power BI, etc. Moreover, you can place your app on AppSource and reach thousands of current and potential customers.
Improving your services or extending your portfolio is at your fingertips
Those are just some of the tools that will immediately put you ahead of competition. Microsoft opens the door to so many improvements, I find it really hard to explain in an article. Another reason for it, is that every business is unique and deserves special attention. The best possible advice is individually tailored to the needs and circumstances of the company. Therefore, while the brief insights above present a better understanding of what Microsoft's tools have to offer, that's insufficient to build the whole picture for your business.
That's why I chose not to give further explanations and generic advices for the tools, but rather to present you the opportunity to getting personalized advice from one of the Top 25 Software companies: ours.
We, at Code Runners, are Gold Partners of Microsoft. Our goal is to consult and scale organizations while extracting the full potential of data and technology. As consultants, we offer tailored solutions based on Microsoft integrations and not only.
Interested in discussing how to improve your business with Microsoft?
bd@code-runners.com
So many different products, services, apps and all confuse you?
This is perfectly normal, as they are indeed a lot. If you google something like "how many companies use microsoft products" the first 20 results are about
988,135 companies use Microsoft Office 365; 1.2 billion Office users; 800 million devices on Windows 10. The products, services and apps are so many, that you get results about numbers of users of each separate one rather than all combined.
After all, Microsoft collaborate with organizations, in order to bring the best possible value to their customers. The solution providers offer implementation of SAP on Azure, Machine Learning, Artificial Intelligence, Big Data, DevOps and many other solutions:
In addition, Microsoft recently announced their partnership with SAP, Adobe, Accenture and 10+ more companies and possibly work on an ultimate CRM System with huge AI and ML capabilities.
Getting to know Microsoft will take you some time
Honestly, navigating through Microsoft's website is kind of difficult. The problem is that the things you want to open and learn are so many that you end up with too many tabs opened.
This is the place where people would expect to learn about the difference between products like Office365 and Microsoft365. After scouting 4-5 pages, they find that M365 includes O365, but also the Windows OS and advanced security.
Getting lost also happens in the offerings' description because the information is explained rather shortly but with a learn more button. Which actually makes reading through each page very easy. But you then also hit the back button as many times as you've "learned more".
The positive side
What's pretty cool, is that Microsoft included a lot of .pdf's with guides, playbooks, notebooks and openly listed courses from 3rd parties alongside with theirs. You just have to find them. To ease you, here is the 'intel' about the products we discussed above:
Microsoft are leaders in delivering the latest technologies in awesome fashion. It seems that the near future will be tightly connected to Artificial Intelligence and Cloud Services – exactly the direction where Microsoft Corporation is heading. More importantly, they are not only leaders in delivering services in these industries but also one of the main contributors to their development.
---
The initial goal of this article was to present all the possible ways to improve your business with Microsoft. This ended up with over 50 bookmarks of articles, news, product releases and guides, all of which I planned to present in a compact way. As you can guess, it didn't work out because of the so many different applications of Microsoft's tools. Instead of too many, complicated and extensive explanations which would rather confuse than help, I decided to directly offer the services of our company.
Code Runners are part of the Top Web Development Companies. And, as we facilitate data-driven decision making for our partners, some of our favourite tools include Power BI, Microsoft Dynamics, Microsoft Azure, Azure DevOps, Microsoft SQL Server, SharePoint. Of course, together we will identify exactly which Microsoft services, products and apps are suitable for your organization.
More importantly, we would also be happy to talk about the way you could add value and deliver your current solutions and products through the Microsoft infrastructure. Your business will penetrate new markets where customers expect to have the best solutions based on the latest technology. Ready to give it to them?