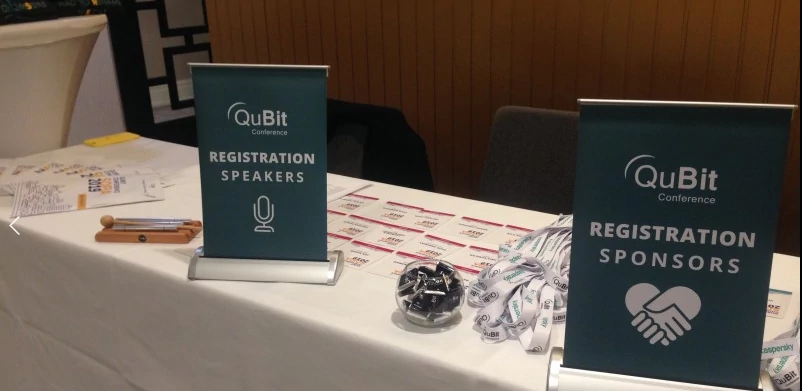 Here we are at QuBit 2019!
For Code Runners it was a great honour to participate in the QuBit conference in Sofia, Bulgaria.
What is QuBit?
QuBit is a cybersecurity community event which is taking place each year in the region of Central Europe. The event was organised for the first time in 2014 in Bratislava. On the first event, there were only 25 attendees onboard, while in 2018, the 5th annual conference attracted more than 250 professionals.
The idea of QuBit is to connect regional communities so that they can become one united international cybersecurity community. Their goal is to make the world a safer place to live in. Good communication and feedback are at the heart of the community. listening to what the public has to say and constantly improving where there is a need to are amongst the key features that are driving QuBit forward.
Our Presence
Our tech lead Dimiter Shalvardjiev talked about Machine Learning and how it raises the stakes on both sides of the information security barrier. The focus of the talk was on the various ways in which ML supports both offensive and defensive information security practices. This type of ML versus ML is already used by Endgame in its red team versus blue team wargames environment. Red teams are attackers and blue teams are defenders. Endgame uses machine learning to simulate both, each learning from the other. But there is a potential of it spilling out from simulations into real-life red team attackers.
One of the significant challenges that the ML community and researchers have to deal with is malware classification and detection. That is of course if they want to implement Machine learning successfully in Cybersecurity. It is difficult to identify malicious programs as attackers use complicated techniques like polymorphism, impersonation, compression and obfuscation. Limited domain experts, imbalanced data sets, the tragedy of metrics are examples of some of the other challenges that the ML experts need to face.
Dimiter also gave relevant examples as to why Machine Learning provides better protection than information security practitioners. And presented recent real-life case studies on data security violation and how a professional can manage with them. You could find more information on how Code Runners can help you with data security here.
Other topics included:
IT threats – The real vulnerabilities for ICS/DCS and SCADA systems
Using Blockchain Technology for Energy Infrastructure while ensuring Cyber Security
ICS cybersecurity – Trends & Challenges.